News
Enter the World of the AIPP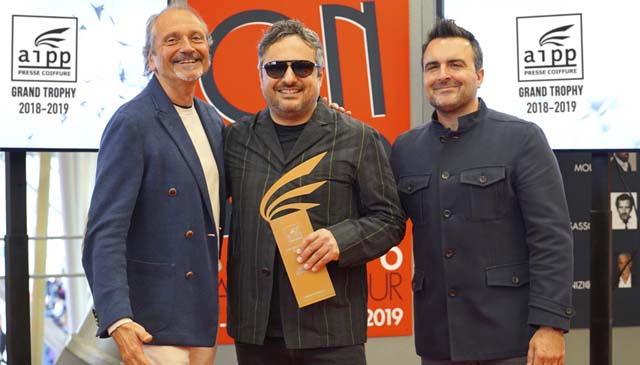 We're delighted to finally announce that the overall winner of the AIPP Grand Trophy 2018-2019 is… ANGELO SEMINARA (UK)!!!
The 2018-2019 AIPP Grand Trophy Award Presentation took place at Cosmoprof Worldwide (Bologna, Italy) on Sunday, 17th March 2019, where Angelo conquered his fourth AIPP Grand Trophy!
The winning collection, Muse 2, features defined modern structures turn their back on gravity while interrupted colour patterns deceive the eye and awaken curiosity. This collection was achieved with revolutionary colour, cutting and styling techniques mixed with innovative thinking and non-compromised detailing. Futuristic and electro-static, sophisticated and feminine, each look is variable in structure, length and colour. The collection shows how art, style and science can combine to excite the mind and please the senses.
Angelo Seminara is one of the most captivating and original hair stylists of our time. Four times winner of the BHA British Hairdresser of the Year Award (2007, 2010, 2012 and 2016), four times winner of the Grand Trophy AIPP Award (2012, 2016, 2017 and 2019) and current International Hairdresser of the Year at the IHAwards 2019, his work is hugely influential and is avidly followed by hair professionals, photographers, stylists and models the world over. Angelo quickly gained a great reputation in the fashion arena. Paris, New York, London and Milan fashion weeks soon featured on his itinerary, working on runway looks for Chanel, Valentino, Hermes, Stella McCartney, Dolce & Gabbana, Alexander McQueen, Vivienne Westwood... the list rolls on.
Admired for his imagination, skill and creative drive, Seminara's work defies categorization. His approach is that of an artist, designer or inventor, imaginatively translating observations of the world into stunningly original shapes and colours. An avid photographer and collector of art and design books, Seminara brings a range of influences to bear on his work, and is constantly pushing the boundaries.
Alongside a remarkable celebrity client-list, Seminara is Artistic Director for the innovative Italian brand Davines Spa. After taking up the position in 2011, Seminara began ground-breaking research into new hair colouring techniques and invented a new innovative colour instrument, Flamboyage, in 2012. After 3 years research and constant attempts and re-formulations Davines' and Angelo's creative union led to the launch of a new range of hair products, 'Your Hair Assistant" in 2016, to critical acclaim.
---
Back